DreamLover 2000 Compatibility
In order to extend the benefits of DreamLover 2000 male management to the largest number of couples, we have customized our device to be compatible with the most wide spread male chastity aids, the CB3000 and CB6000.
Overview
The DreamLover 2000 is 100% compatible out of the box with the CB3000 male chastity device by A.L. Enterprises
The DreamLover 2000 can be installed easily on a CB6000 with a minor cage modification described below
Due to the "device agnostic" electrode design it should be possible to install the DreamLover 2000 on many other devices; however this may require skill and tools
We will aid users and manufacturers in trying to install the DreamLover 2000 on any chastity device; however, we suggest that you do not purchase a DreamLover 2000 without being happy to mount it on a CBx000 device if installation attempts on other devices fail. Furthermore we decline any responsibility for damage caused to your chastity device by modification attempts. To be absolutely sure, pick one of the devices listed here as 100% compatible.
Detailed list
(Shopping through links on this page helps support our operations and continued product development)

100% compatible out of the box, no modifications necessary
CB-3000 by A.L. Enterprises
You may also purchase the cage only, useful if you already have a CB-2000 or "The Curve" which have identical rings, or if you have a CB6000 and want to get the 3000's cage to avoid carrying out modifications (read below)

100% compatible but with minor modifications
These devices should work based on geometry but have not been tested
These devices have been tested in-house and installation was unsuccessful
Xannadu by Phoenix Chastity - unfortunately the shape of this device is such that although the DreamLover 2000 standard electrodes can be installed by creating a hole at the base of the cage, contact with the skin cannot be achieved. This problem may be overcome by using significantly thicker electrodes. The manufacturer (Phoenix Chastity, who has graciously provided us with a test unit) has expressed an interest in experimenting further and possibly modifying the Xannadu's design.
Locks

The DreamLover 2000 waist band can be secured with ordinary plastic single-use locks normally used with chastity devices. The product includes some locks for your convenience. Until we're able to accept online payments for such small items directly, you may purchase additional locks here.
How-to guide
What if my device is not listed?


For more technical notes that will enable you to judge whether the DreamLover 2000 will be compatible with other devices, and to understand how you could modify your device to allow connection, please see the Compatibility notes
For manufacturers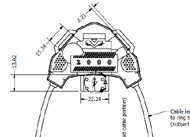 If you are a chastity device manufacturer seeking information or help in making your device compatible with the DreamLover 2000, or if you have already made your product compatible and wish to be listed on this page, please contact us. We can supply a technical drawing of our enclosure plus the cabling to assist you in the integration process. We can also assist in the creation of custom rubber/foam/plastic parts to better integrate your product with the DreamLover 2000.
Report violations



If you see this logo associated with a chastity product that is not specifically listed here, please report it. We're more than willing to help manufacturers get their product's compatibility assessed free of charge and to list their product on this page so that our users can purchase with confidence knowing that we have reviewed a sample and that the product is in fact compatible.