Male Training Courses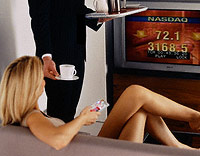 Well trained, obedience oriented males don't exactly grow on trees. But DIY training is so much work! Fortunately, there's a better way. Fit your male with a DreamLover 2000 unit and sit him in front of the PC with your favorite male training course module. The course software will present material in an easy to understand fashion, drill him, track progress and save statistics for your review. DreamLover does all the work making this a completely automated male training solution. It even punishes your male for you when it judges his performance to be less than optimal!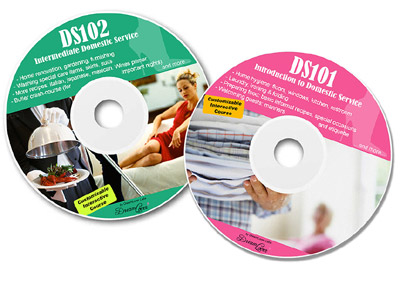 So go ahead: get your hair done, check your stocks and return those business phone calls - at the end of the day you will see your male emerge from his study room with new skills and training, all without lifting a finger!
Results Guaranteed
Our courses run within the DL Browser, allowing them to harness the DL2K-LINK and its RF transmitter to control and activate the DreamLover 2000's electric pulse to properly incentivize the end user. That's a lot of jargon to say that when your male is taking a DreamLover course, you can be sure he's paying attention. If he answers drills incorrectly, he will get zapped. Wrong again, and the power level is increased. No nonsense - progress is mandatory, and computers don't take excuses.

The DreamLover ChronoVault can also be used in conjunction with the courses. Every 5 wrong answers, the vault's countdown is increased by 24 hours.
Courses planned
The following courses are currently planned:
DS101: Introduction to Domestic Service (available)
DS102: Intermediate Domestic Service (planned)
IP100: Intimacy and Pleasure Skills (planned)
Custom, user-created courses
In addition to purchasing an existing course you will eventually be able to create your very own modules (questions, tests and all). Use it to train your male, and share it if you wish for the benefit of others.
Degrees
A number of degrees will be offered, consisting in mandatory and optional modules to complete. if you are on the look for a male with obedience skills and a willingness to learn, simply choose a degree you think is sufficient and search for males with the required credits. Alternatively, you may define a personalized set of required courses, and allow males to contact you when they earn sufficient credits.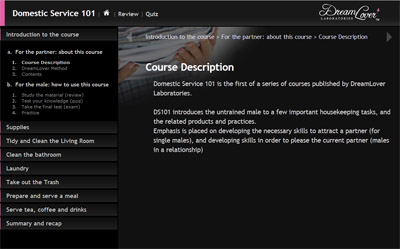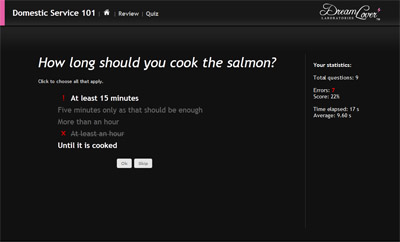 Course free trial
The first two sections of DS101, our first course, as well as a one-question only taste of the quiz screen are available to everyone. Courses are only accessible from within the DL Browser, a feature contained in the DL Uplink application (a free download).
Trial with a DreamLover device: Add the courseware URL to the DL Browser's allowed URL list. Then open the DL Browser and click "DreamLover Courseware" under Bookmarks.
Users who do not own a DreamLover device: Open the DL Browser, enter demo mode, then click "DreamLover Courseware" under Bookmarks.







DS101 Table of Contents

Click to expand...

Course purchase

Each course can be purchased separately via PayPal for a yearly fee of $49.99. Use the button below to checkout using your paypal account or a credit card.

You are not logged in. You must have a user name on this site, and be logged in, in order to purchase a course.
Register | Log in

Note: The DL Browser only allows selected URLs to be visited in order to prevent your male from tampering with the Male Management devices. So, don't forget to enable the courseware URL from the DL Lounge after purchasing a course!



(DL Lounge > Device Permissions and click 'Edit allowed DL Browser URLS")