3-axes MEMS Accelerometer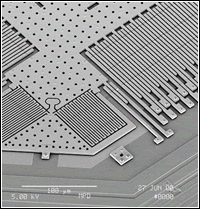 Microelectromechanical System technology. A +/- 1.5g 3-Axes MEMS accelerometer supplies precise orientation and acceleration data within a couple degrees or fraction of a G, giving you: Canine Mode, a mode which enforces quadrupedal locomotion; The Penis Slap Amplifier, a way of activating a pulse by simply tapping the receiver with a gesture resembling a "penis slap"; and Shake detection.
Miniature 2.4GHz transceivers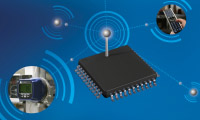 Three 2.4 GHz Direct Sequence Spread Spectrum (DSSS) Radio Transceivers featuring Pseudo Noise Codes and CRC detection - what these means in practice is that the transmission is extremely reliable even in noisy environments, with zero false positives, zero false negatives and zero malformed packets (more). 98 RF channels and 65,536 unique IDs allow multiple DreamLover 2000 sets to operate within the same environment. Receivers and remotes can be mixed and matched through the Learn Mode.
Male Management Unit (MMU)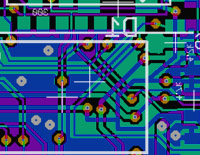 The DreamLover 2000's brain is a 4 MHz, 18 pin ultra low power integrated circuit. Its self-reprogrammable program memory allows wireless updates of its whopping 8KBytes long Male Management logic packed with features such as Leash Mode, Timers, Arousal Induction, Learn Mode and more. An on-board analog to digital converter allows real time monitoring of the pulse circuitry. 256 bytes of EEPROM rewritable memory store an array of configuration settings which can be modified through the DreamLover 2000's USB interface, the DL2K-LINK. The MMU has both SPI and I2C communication channels to interact with the RF circuitry, the voltage conversion ("charge pump") circuitry, and the accelerometer. All pins are multiplexed to allow complex operations to be carried out in an incredibly tiny package, and achieve the degree of miniaturization that is essential for long term use.
ESD protection circuitry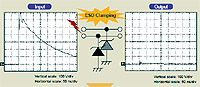 In line with the solid construction and durability of the DreamLover 2000's exterior, its circuit boards incorporate top of the line electrostatic discharge protection components. ESD protection circuitry drastically extends working life of electronic devices and is normally used on computer motherboards and telecommunication equipment.

The effectiveness of the DreamLover 2000's ESD protection circuitry has been verified in the lab as part of the CE mark testing - our test unit has survived dozens of of 8 KVolts electricity sparks at multiple contact points and lives to tell the story.
3 Months battery life
| | |
| --- | --- |
| Product | Battery life (hours) |
| Laptop computer | 4 |
| iPhone | 8 |
| iPad | 10 |
| Motorola T3 walkie talkie consumer radio | 20 |
| iPod nano (6th generation) | 24 |
| DreamLover 2000 | > 2000 |
An advanced duty cycling algorithm allows the DreamLover 2000's receiver to listen to radio packets and deliver pulses for 90 days - that's 12 weeks or 3 months - with a single battery. Component choices, part tolerances, latency, and even the communication protocol itself were planned and designed with battery life in mind. A battery consumption calculator is included with the software to help you estimate your battery consumption profile based on your chosen Arousal Induction and accelerometer usage patterns. (The DreamLover 2000 Lite has a battery life of up to 2 months)
Water-proof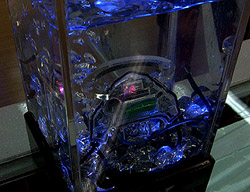 Ten custom silicone parts were created in different shore hardnesses to water-proof the DreamLover 2000. However, we slightly overdid it and the unit turns out to be water-proof to more than 1 meter depth (IP68)! That includes the cabling, the electrodes, and even the arousal inducer.

Thanks to the water-proofing, the receiver does not need to be removed prior to showers or even baths.
Expert mold design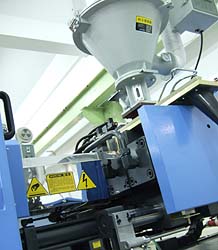 The DreamLover 2000's plastic parts are professionally produced in a brand new injection molding factory. Our steel mold were designed by a very experienced associate - they feature metal-in-plastic overmolding, mold inserts, and a multi-step custom molding process for our miniaturized Arousal Inducer. The molds were polished with crushed industrial diamonds a few microns in diameter to give the enclosures a high transparency and glass-like surface finish.
Professionally assembled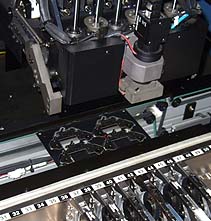 The DreamLover 2000 circuit boards are professionally assembled in a PCB assembly factory. All boards are visually inspected and electronically tested multiple times for manufacturing defects before being released to our warehouses. Final product assembly and inspection takes place in the USA and UK.