<< return to blog entries
2013-08-13 05:04:39 (34155 views)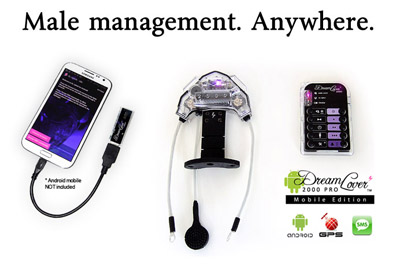 With the DreamLover 2000 Mobile Edition there is no longer a need for the male to be within remote control range or to be near his PC in order to receive training. The USB transmitter can be plugged into any Android based device with USB Host capability. The DL Uplink Android app runs on the male's mobile, forwarding commands to the body-worn DreamLover 2000 receiver. Other benefits include GPS tracking, SMS command delivery and more.

For a limited time, and for any current DreamLover 2000 Pro users, we are offering the upgrade from Pro to Mobile Edition for only $550 with free shipping (normal price $650) - you pay the same total price as if you had purchased a Mobile Edition directly the first time around.

The DreamLover Mobile App has two main functions:

- It is an Android version of the DL Uplink application. It allows your male to use his mobile phone to connect to our male management server, with many benefits such as location tracking and SMS command delivery. A DreamLover 2000 Pro Mobile Edition is required, please see the Mobile Edition page to get all the details.

- It includes conditioning and male training features which will be useful even to users who do not yet own a DreamLover product.

Please note we're just rolling this new product out and it required us to rewrite a lot of code so if you notice anything quirky on the site let us know and we will patch things up immediately!
Comments
Post new comment