<< return to blog entries
2015-08-26 16:11:30 (29427 views)
A user has submitted a DIY method of attaching the DreamLover 2000 to a HolyTrainer chastity device.

- The HolyTrainer is not officially supported
- You take full responsibility if you choose to carry out these modifications and damage the DreamLover 2000 or the HolyTrainer or both.
- We cannot answer questions about this method, but if you have any, you can post them as comments and the original user may or may not choose to reply and help out

Here is the tutorial:

Essentially he cut the rubber attachment piece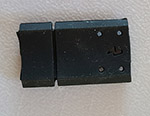 And reconnected the shortened portion using the four small black screws. The screws pierce the rubber easily creating four new holes.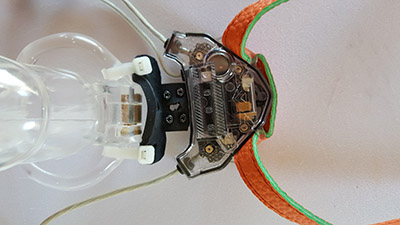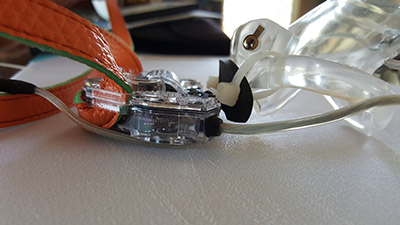 ("Depending on the user, the above may not be necessary if the user does not mind the rubber strap being too long. I found it better and less noticeable through clothing if the above modification is made")

Then he attached the curved rubber mount to the ring of the HolyTrainer ring.

"Attach the rubber curved section to the top area of the HolyTrainer ring by using two nylon wire ties as show above. The attachment of the wire tie does not impact the HolyTrainer or the wearer of the device (no pinching noted by this user). Attach the unit as you would normally."


"Additional mode made to HolyTrainer to make more comfortable:

Drill hole near inner attachment point nad towards side to allow wire to pass outside and eliminate pinching and crowding of the main shaft area. Works well."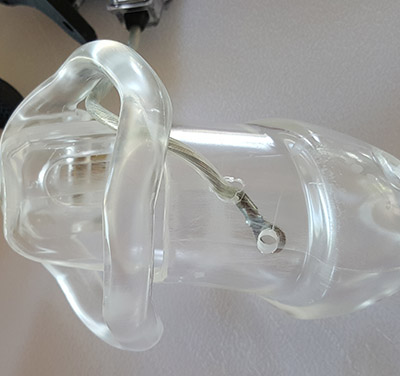 Comments
Post new comment