2015-01-18 03:52:05 (7176 views)
You can now assign ownership of your device to someone other than the device owner for up to 90 days.

2014-11-14 09:00:15 (12785 views)
The following is our warehouse schedule.
When ordering, please allow up to 24 hours longer for the order to be reviewed by us and forwarded.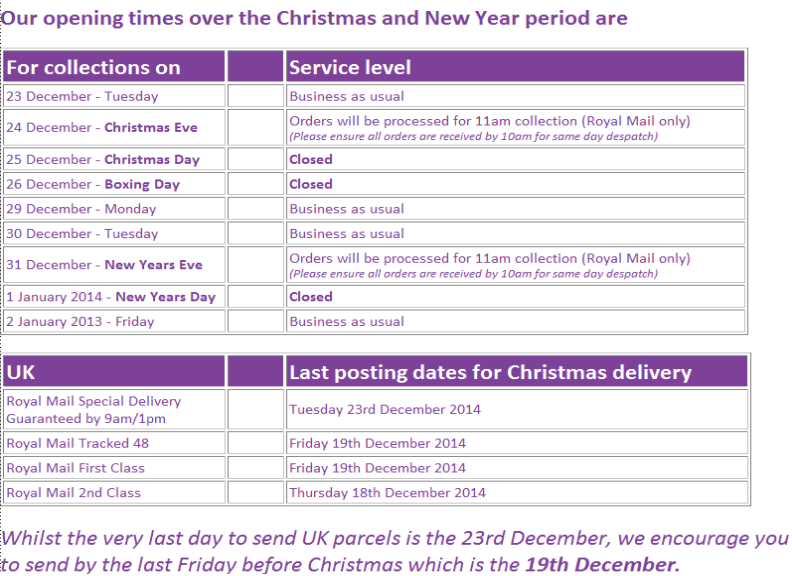 2014-11-09 03:32:12 (13604 views)
From an enthusiastic prospective user...

"Hi guys, I just wanted to let you know your product is awesome and my husband is saving HARD right now to be able to afford it for us!

For now we are experimenting with another tool which we wanted to report about, as it has improved our relationship a lot in the past
few months... the technique is called "streaks" and it is a great help in achieving discipline in certain areas... such as diet or fitness...
one of the best apps is called "HABBITS", you can check a screenshot attached from my husband's routine...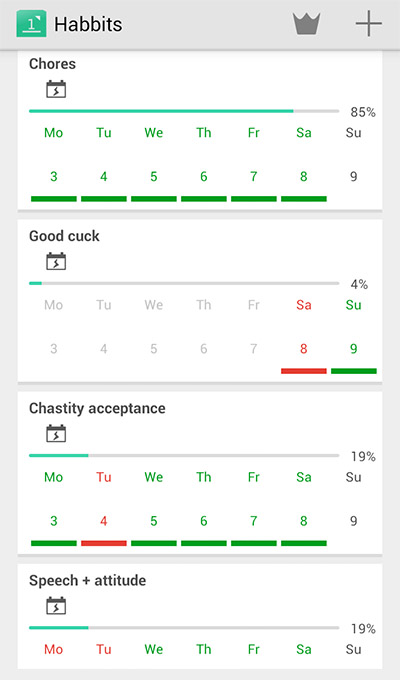 ...

2014-11-09 02:28:40 (13471 views)
What is your new year's resolution for your husband or boyfriend?
Make 2015 the year of total male compliance!

We have, despite great adversity, completed a new assembly run of our product line and are now fully stocked in preparation for the holidays.

This took our full attention for over three months, trying to source all necessary components, some of which were running low world-wide. We had to literally beg the manufacturers to release some stock they had allotted for sampling. Of course we had to move back to China to see this whole thing through. Sorry to everyone for the delay in approving comments.

We are also about 2/3rds of the way through the creation of a new application for the DreamLover 2000 Pro Mobile Edition which will allow you to use your android mobile phone as a remote control. You still have to connect our DL2K-LINK to the phone, but previously this only allowed a mobile to receive web commands and transmit them to the wearable receiver - now the controlling user can use the mobile + DL2K-LINK (Mobile Edition version) to transmit commands when the wearer is in the vicinity - instead of our standard remote control which is still included. The DL2K-LINK signal has greater range than the remote control.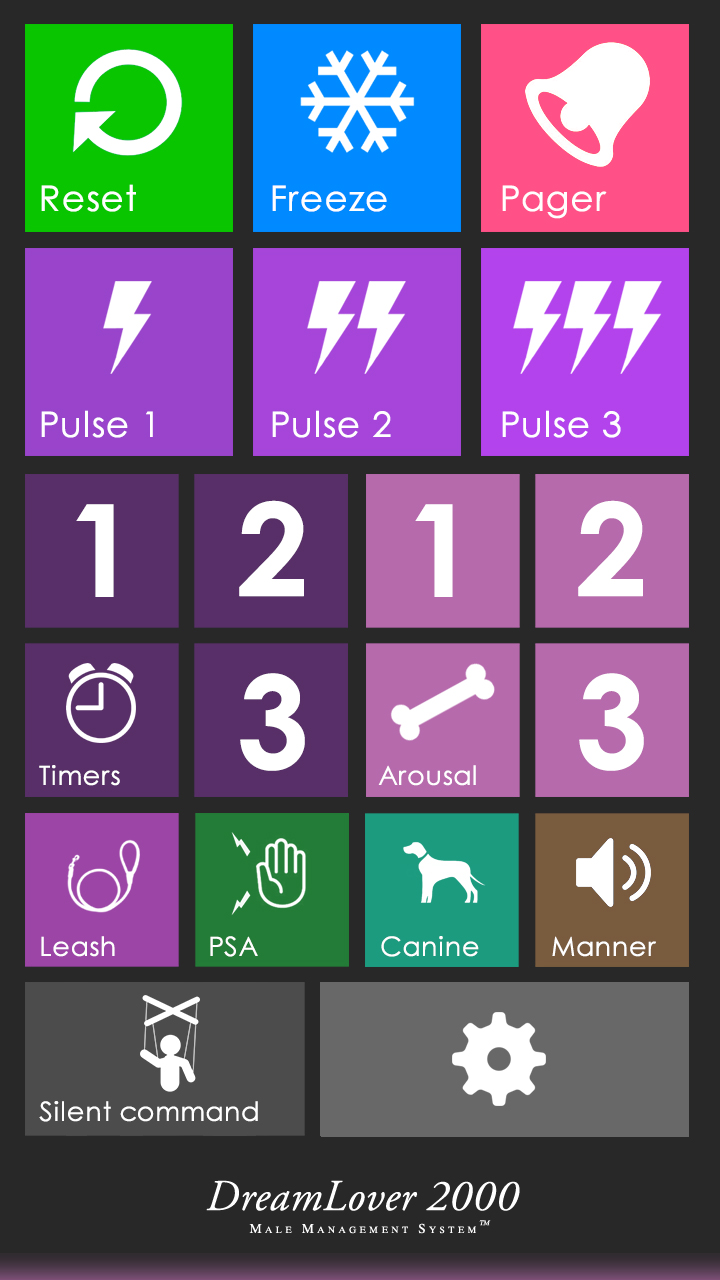 ...

2014-09-10 12:05:08 (18314 views)
Hi everyone.

There hasn't been an update in a while because we're busy with manufacturing and development of a new Android application for our product line.

The current forum isn't being of much help right now, due to the need for moderation (we get tons of spam attempts and just random insanity) and the fact it's not really up to today's standards for social networking.

We have created a proper Facebook forum which will hopefully give a more flexible platform to discuss our products and build our community.





This forum will continue to exist and is in no danger of disappearing.

Attention: this is a public group. Privacy is your own responsibility.

We also have a ChronoVault page and a DreamLover 2000 page which we invite you to Like.



2014-03-31 02:59:02 (35154 views)
Some users have reported compatibility, so we ordered one and gave it a try.

The good:

- It is possible to deliver an unpleasant electrical jolt to the glans to deter bad male behavior by using this CB and the DreamLover 2000

- The Public Enemy n.1 is a well designed, professionally packaged product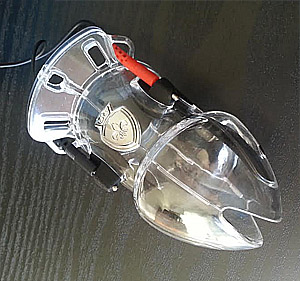 - The DreamLover 2000's attachment rubber piece with the 3 holes "almost" works for the PEN1, though its posts are not round. Be careful though or the rubber may tear as shown below.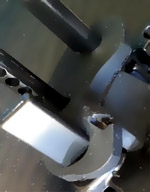 The bad:

- the conductive rubber elements aren't conductive enough. Not their fault, we experimented with conductive rubber early on and had the same problems. Add too much conductive material and the rubber becomes brittle. We even tried silver based conductive rubber used in aerospace, but to no avail. This is why we decided to avoid using conductive rubber, and use metallic electrodes instead.

- current flows from one side of the penis to the other (as in, left to right), not involving the testicles. In our experiments, total targeting of the male anatomy (scrotum to glans) has superior psychological impact

- in order to get somewhere close to the real DreamLover 2000 pulse sensation, you will have to use conductive gel.

- you can alternatively turn up the "reps" in the pulse customization screen, this way you will definitely achieve an unpleasant sensation, though it will be electrical (strong AC component) unlike the "impact" like sensation we achieved with our electrodes

- security wise... there isn't much security; the device is not tamper proof nor tamper evident, electrodes can be disconnected from the cage at any time. It's interesting to note that they almost bumped into a solution by sheer luck; the terminal is a bit hard to remove when the cage is worn. But it does come off. The wires used are quite thin.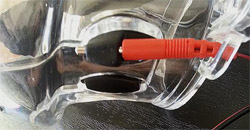 - the connector used is probably meant to be plugged into an e-stim box, so it is not compatible with the DL2000, though you can use some DIY method and some soldering to connect the PEN1 wires to the DreamLover 2000's ring terminals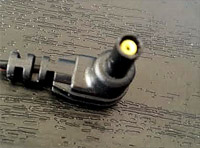 Verdict:

Probably useful if your male is in permanent chastity and you feel a need to do e-stim sessions once in a while perhaps to aid memorization of rules.

It is unfortunately not a viable solution if you are using the DreamLover 2000 on a daily basis to achieve male behavior conditioning.