2016-05-12 07:57:32 (14185 views)
The new app is available from our Mobile App page which also explains the usual Android stuff (allowing unknown sources etc)


2016-05-11 18:30:58 (14941 views)
The much awaited app is a few days from being released! This was unexpectedly hard. USB functions on Android are very poorly documented. Our first developer quit half way through. Our second developer took on the task but still it was exceedingly difficult to use Android layouts to create a proper experience on all screen sizes, so in the end we just programmatically laid out all objects based on screen pixels which required redoing a lot of work just to get the last 10% of spacing and sizes just right.

The android app is now a fairly comprehensive port of our DL Uplink Windows software, not just a command relay as our previous version.

Highlights:

- Full control of your ChronoVault from your mobile phone (through OTG cable)
- Full control of your DreamLover 2000 from your mobile phone (Mobile Edition DL2000 only, through OTG cable and DL2K-LINK USB peripheral)
- All product parameters are customizable directly from the app
- The app has a full admin panel to control the products (which of course is not accessible when you assign ownership to someone else)
- The Conditioning Drills bug for some Android versions was fixed


You must be thinking, how much can this cost? 49.95? 29.95 plus shipping and handling? 10 bucks if you CALL NOW? No, the new app is free for all customers who own one of our products!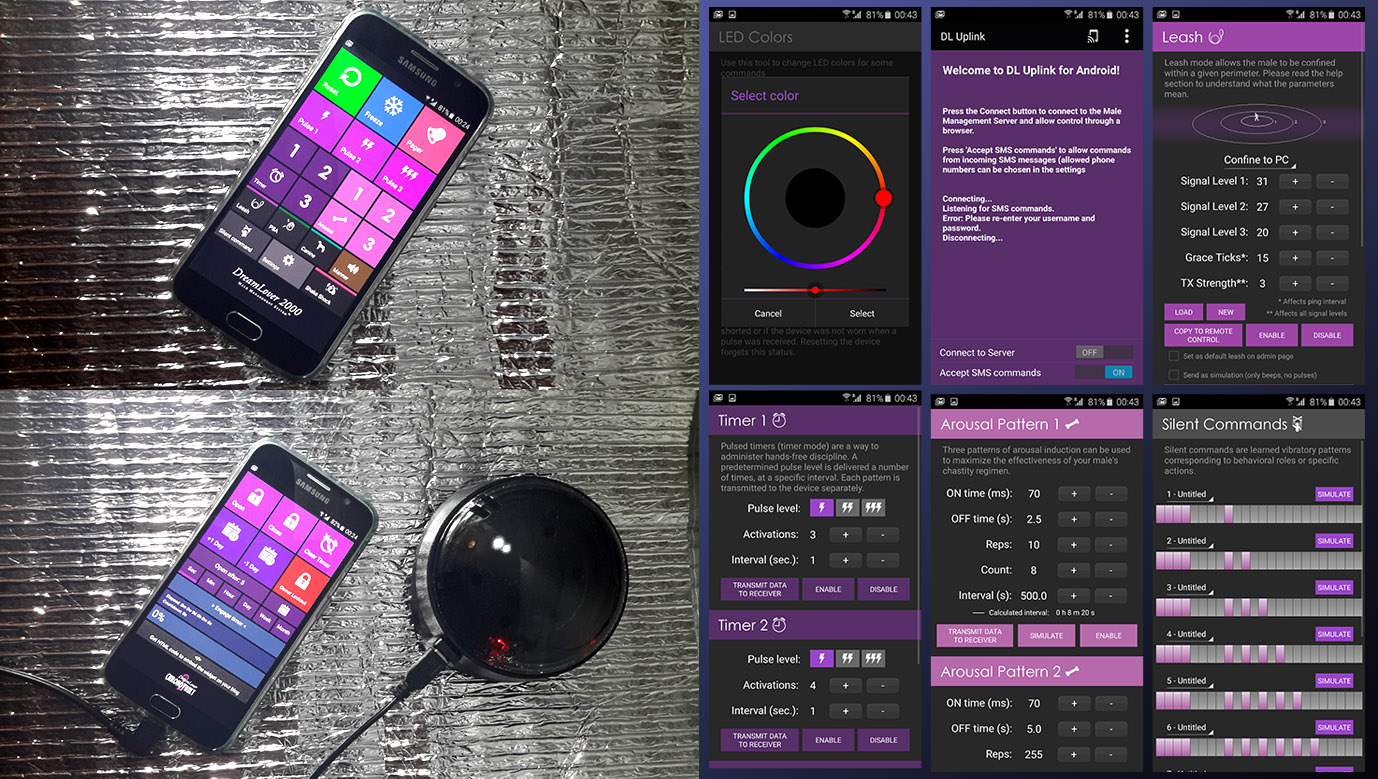 2015-11-27 22:01:47 (27842 views)
If you are unable to get past the first sentence repetition, please add an image to the drill text.

2015-11-02 17:39:17 (27521 views)
Sorry to keep everyone waiting but as you know we had to move manufacturing to the UK due to issues with the batteries. We are now stocked and are e-mailing everyone we know to be waiting for these. If you do not get an e-mail in 24 hours about your battery order that has been previously placed on hold, please contact us (info@) to remind us to fulfill your order.

Thanks.

2015-10-22 17:31:02 (30460 views)
So our previous developer did a lot of work and it was good too, but in the end left us stranded with an unfinished application and is not replying to emails.

Therefore we'd like to find another developer who wishes to complete our new Android application for controlling the DreamLover 2000 and ChronoVault in exchange for our whole product set - DL2000 Pro Mobile Edition + the ChronoVault + free shipping, total value 2500 USD.

Currently there are some small graphical glitches which may require re-saving icons from our original files, as well as some drawing logic to make this display well on tablets and mobiles alike. Stuff related to Linear Layout, and image scaling.

Finally there are just a couple of server queries (such as the function to register an owner) which haven't been implemented.

It's probably 10% of the total work or less, but we're still willing to trade the whole product set because we only put out quality material and we want to be able to be picky and get this tweaked until it looks awesome.

Please submit samples of your work so we know you are qualified, our email is just info @ .

PS: The project files can be opened with Eclipse.

2015-10-02 11:00:20 (31368 views)
Please note that we are working with our card processing facility to upgrade our security. If you try to put an order through and get any errors between now and the end of November, do not panic. Just contact us and we will fix things. There shouldn't be any problems though (fingers crossed).