2017-11-09 09:41:21 (11985 views)
A user reports successful mounting of the DL2000 on a Steelworxx Tube Jacket.

2017-10-03 15:08:51 (14119 views)
For those who are missing MatureMetal's DL2000 compatible steel CBs, please do not hesitate to contact Steelwerks (info@steelwerksextreme.com). They produce custom made and very high quality steel CB. They can be customized in many different ways.

2017-08-29 12:31:28 (16055 views)
Looks like our host is maintaining the server right now, could be due to the hurricane hitting the US - if you have trouble logging in please wait until we can get a hold of them.

2016-12-20 12:16:32 (35615 views)
How many remember interactive text adventures like Zork? Interactive Fiction has a small but very loyal following. Today there are a few programming languages (TADS 3, Inform) and even IDEs (Quest) which can be used to create very complex adventures.

Here is an interesting prototype of a mini-text adventure interfacing with our products! (it shows the desktop app reacting to in-game events with a red status bar message)




Behind the scenes (attention, geek zone):

- A small, one-room adventure was written in Inform 7 and compiled to z-machine code. At this point this game runs with any interpreter on Windows, Android and Linux but since it's a virtual machine it can't do anything other than output text.

- Parchment.js is a JavaScript z-machine interpreter which allows playing the game in a browser. Again it only allows text to be input and output but that can happen within a browser.

- The Vorple library creates a bridge between z-machine and custom JavaScript code! So now the adventure can call Javascript and do anything the browser can do.

- The whole thing is encapsulated by a windows app, with a web browser control, so that now JavaScript can call C functions; this way the text adventure can not only do anything a browser can, but anything your PC can!

The end result is that actions within the text adventure can trigger functions within the windows app and therefore activate scripted DreamLover 2000 and ChronoVault functionality!

Well, text adventures aren't necessarily immersive now that we've got CUDA arrays and VR displays. But you'd be surprised at the level of detail that can be achieved by the modern text adventure writing languages!

While text adventures cannot hope to compete with modern games on the graphical side, they have huge advantages:

- developing an impressive game is still within the power of a single person
- the interaction with the environment can be extremely rich depending on how much time went into creating the world. In a text adventure you can do anything the programmer imagined. In a modern 3D game the range of things you can do is severely limited by the cost of creating graphical assets and animations (which is why most games are highly repetitive, such as run and shoot).

You may want to take a look at this Inform 7 handbook PDF (real code examples in blue after the intro). It takes a lot of work but you can extend what the parser understands with nearly no limits as far as world complexity and object behavior.

Some possibilities:

- the adventure could require real-time action (daily, throughout the day etc). Conceivably an Android version could be created instead of Windows, but that requires some further research.

- the adventure could include a training journey in a DreamLover world - the player learns proper etiquette and is punished with ChronoVault days of chastity and DreamLover 2000 pulses for errors

- Of course custom adventures could be created by anyone in Inform 7 and plugged into the software

In order to justify the time investment we need to know that there is sufficient demand / interest, so please let us hear what you think!

2016-12-13 09:35:57 (33978 views)
Hi everyone, this is our warehouse schedule for Xmas. Please note that (a) products are assembled as they are ordered, (b) there are courier pick up times involved, (c) the season is very busy - so even if you place an order on the 23rd, your order may not be processed until the 28th or even later.

The time is expressed in UK time (UTC+0 / GMT+0)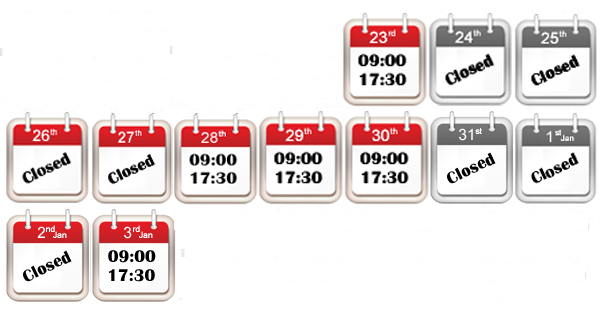 2016-05-12 07:57:32 (48639 views)
The new app is available from our Mobile App page which also explains the usual Android stuff (allowing unknown sources etc)