2011-02-04 05:33:12 (11192 views)
All our stuff is scheduled to arrive at the warehouses shortly after Chinese New Year, or within a couple of weeks from now.

Due to rolling reserve requirements, which would interrupt our supply for 3 months or more, we will not accept credit card payments for our pilot run. Payments will have to be made via an international bank transfer. Some may be unfamiliar with this so just in case you haven't done it before, you just head out to your bank, ask for a "foreign remittance form" and they help you fill it out with information we will provide.

Update: to protect your privacy, both on the remittance form and and in the future on the card statement, we will not be using "DreamLover Laboratories" name in full. So the bank staff and whoever gets a hold of your credit card statement will not know what you're purchasing. On the reason for payment you can write "electronic product".

If you wish to use internet banking to do this, there may be a process to go through before international remittances are allowed from your online panel. Depending on the bank you may need to receive a snail mail letter with a code, other times you just show up at your local branch and request the service to be enabled. This activation could take a few days.

MISC UPDATE

The packaging guys used more than 25% heavier materials for production, this makes the packaging look and feel sturdier and more durable, however the weight was massive when trying to ship, which would have been a problem if there wasn't such thing as weight by volume. In this case the volume is so big it takes over and weight no longer matters. This is probably why most product pouches (such as the one the CB6000 itself is shipped in) are made of thin, light fabric which can be flattened. We didn't consider this volume issue at all - our packaging is similar to what's sometimes used for razors or semi-hard eyeglass cases.

There was some panic as usual due to the unforeseen costs, and we had our local guy make tens of phone calls to freight forwarders, eventually we settled for a method where the merchandise is sent partially by air and partially by sea (don't ask...)

Our shipping cost for the bags ended up being identical to production cost. With air freight, shipping would have cost more than twice as much as the packaging itself.

By going through this mini adventure and having local guys make tens of phone calls we managed to figure out the whole spectrum of shipping options from China, the price breakdowns, possible discounts, weight and volume rules - this is going to be essential knowledge moving forward.

Our product has tens of components so it's not being easy nor cheap to coordinate shipments, some parts come from Japan, some from Canada, some from the UK, some from China. There were a few returned bank transfers and misc trouble along the way, but all's fine now.

We are using this waiting time productively by creating even more boards by hand. We've gotten so good at hand soldering these boards when we reworked our very problematic first assembly batch that now hand soldering them from scratch seems like child's play (though it's still massively time consuming due to the sheer number of components).

We're also gathering course materials from the web and corresponding with a couple of associates regarding our bootstrapping strategy which is really the biggest thing on the radar presently... how big is the chastity market? how many people interested in chastity will also want a male training system? how many units can we set as a target for our next production batch? how many people will purchase at what price? at what point can we automate production instead of running after suppliers 16 hours a day in 3 time zones trying to coordinate everything? do we want/need distributors? do we need to immediately change tooling to make production easier or save money to buy components? and there are a whole range of top secret strategic issues that we need to figure out before launch.

But everything's looking up and as soon as the product's on the shelves we won't want to nor be able to brainstorm for long, so do look forward to an imminent release which will be accompanied by detailed ordering information and instructions.

2011-01-30 23:25:55 (12008 views)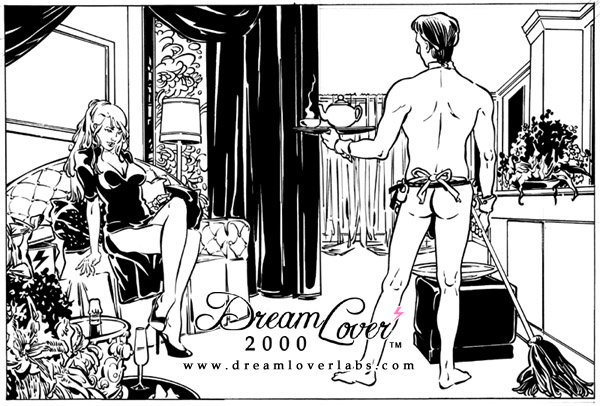 *UPDATE*

Our illustrator has agreed to greet the crowd right on our blog... and she will also be joining the Education Committee advising on practical matters such as cooking, something she says she's really good at. Plus, she says her female friends have told her that these courses are a great idea and have become interested in the product!

Have we unleashed something that cannot be reined in?

Stay tuned...

2011-01-29 02:31:03 (11926 views)
Some excerpts from the discussion. Sorry about the format - this was pasted directly from the EC forum. We think the first course should be a basic introduction to each field, and that following courses could provide more in-depth information.

If you are in the Committee and haven't logged in in a while, please check back in because we're about to choose what subsections to cover in each course.

If you are not in the Committee yet - here's your chance to join, but remember that due to the number of illicit attempts some form of verification (anonymous, but convincing - up to the applicant's wisdom) is required.

What we would like to achieve now is:

(a) make sure there aren't important sections we've omitted

(b) decide which subsections are the most important in each category - these will be included in the first course, limited of course by the necessary time and work.

Please note that according to our philosophy "No two dream lovers are the same", dissent is encouraged here. If there are any items of disagreement we will enable customization on those questions, so that one is not restricted to the default choices when starting a male out on the program.


To view the excerpts, and to comment, please use the relevant new forum post.

2011-01-28 10:59:56 (11483 views)
We've come across the "Birdcage" chastity device. The ring-cage locking system is similar to that of CBx000 type devices. If anyone owns this device you are invited to report the horizontal and vertical distance between the pins/holes. The DL2000 may be compatible with this device too, provided that the electrodes are insulated from the cage body (perhaps with a thin layer of non-conductive material). With some luck the pins will also have similar distance - but if not it wouldn't be hard to make two supplementary holes in the DL2000 attachment rubber piece for these to slide through.

2011-01-26 12:08:31 (12051 views)
We've been talking about a surprise regarding the courses. And as you know... we don't use the word surprise lightly! First it was the accelerometer. Then the arousal inducer. Then the 007 packaging... but now with a completed product and an eye on the courses we've accomplished something even more interesting.

We've hired one of the most talented erotic comic book artists out there to produce illustrations for our upcoming courses! The courses will have no explicit content, but we chose this person because of her skills in drawing human figures.

As a test, she's produced one illustration for us. It's not complete yet (the most interesting half is missing, and it still needs shading) - but take a look.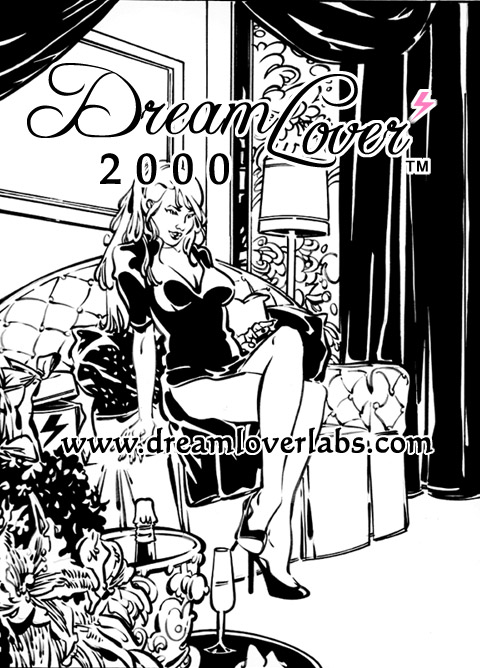 This artist is one of the very few if not the only female professional erotic comic book artist (that we know of at least) and she is definitely familiar with power exchange (she shows up for exhibitions wearing latex...)

We're now talking to her about how much publicity she wants to have on our site. Hopefully we'll be able to introduce her sometimes soon.

2011-01-24 11:54:44 (10518 views)
COURSE CREATOR

As we patiently wait for the many shipments to reach our warehouses we're already busy coding the DreamLover Course Creator, an application which will allow creation of course modules of different types, packaging of custom and pre-made modules into courses and more.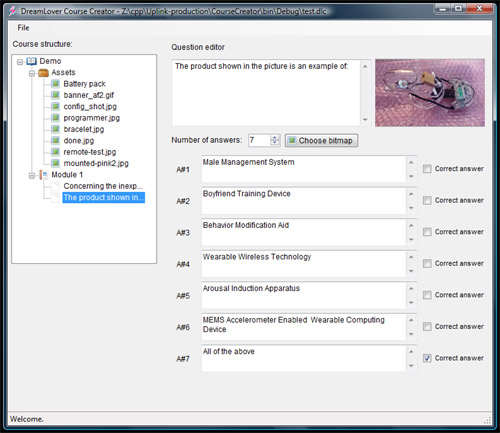 A preview version of this software will be available for download soon.

COURSES

The Education Committe members have spoken to us, both publicly on the forum and in private, with regards to areas in which training help is most urgently needed. It won't be easy to package so much material in our first course, so we will probably agree to a small subsection of what is to be covered and start from there. Creation of our first course will begin as soon as the Course Creator is sufficiently complete.